Tenant FAQ's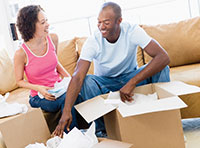 As a tenant you might have many questions about the do's and dont's with your rental home. While every situation is different and the landlords of your home have high expectations of Richardson-Free managing their investment, we have established procedures to maintain the value of the properties we manage. Please contact us if you have any questions about any maintenance concerns with your property.
Why may I not clean the carpet myself?
We require professional carpet cleaning to preserve the life of the carpet and the floor beneath it. Home or rental machines do not handle the deep cleaning necessary.

May I install extra telephone lines?
You may install extra telephone lines if you pay the expense and disconnect them when you leave. However, you must notify Richardson-Free and obtain written permission to install the lines.

May I have a satellite dish?
Yes, if allowed by the landlord and any Homeowner Association in place. If you live in a subdivision that has a HOA, you must install the dish in accordance with the HOA's Declarations and Covenants, no exceptions. This may require that you get permission from the HOA as well. The dish may not be installed on the roof or any other part of the structure. You must submit a request to Richardson_free prior to installing the dish. Please call us for specific details regarding a satellite dish at your property.

Are pets allowed?
Usually yes. Most property owners have restrictions based on number of animals, breed and size and their individual policies vary by property. Pets are not allowed at every property managed by Richardson-Free, so make sure to check with the us before bringing home a new family member.

What happens if my pet runs away or dies, may I get my pet deposit back?
No, all pet deposits are non-refundable.

When is my rent due and where can I pay my rent?
Refer to your lease to determine exactly when your rent is due and when late fees will be charged. Rent can be paid by mail to Richardson-Free Realty, Inc. Property Management, 1271 S Houston Lake Rd, Warner Robins, GA 31088 as stated in your lease agreement or in person at our office. Our office is open Monday through Friday from 9:00AM to 5:00PM. Please make sure your home address is written on your funds. Acceptable forms of rent payment are local personal checks, cashiers checks or money orders.
You can also pay your rent online using our convenient 24/7 service through our payment provider PayYourRent.com. You are able to pay your rent online using a Credit Card, Debit Card or an e-check. Online payments are subject to service fees, depending on the method of payment. The fees are disclosed after you choose your method of payment and before processing your payment. Paying your rent online is always quick, easy, hassle-free, and guarantees that your payment will post to your account the same day to avoid late payments.

How do you handle maintenance and repairs?
Maintenance and repair requests can be made in writing or verbally. You may submit your request by calling us at (478) 988-8442, or online through our website by submitting a repair request. Be sure to include a valid e-mail address or phone number and the best contact information. In a non-emergency situation, please allow 3-4 business days for repairs to be made. If you have not heard from us or a vendor after this amount of time, please contact our office. If the home is covered by a home warranty, our office has no control over when a vendor might contact you. For emergency situations, please call us with repair requests.

What am I responsible for maintaining?
Residents are responsible for the monthly changing of their air conditioner/heating filters, replacing smoke detector batteries when needed (twice a year or more frequently), replacing light bulbs, replacement of sink washers, keeping appliances provided clean and yard maintenance and watering unless this is provided by the owner. If you are not sure of your responsibilities as a resident, please refer to your individual lease, or call our office.

Can I paint or change something?
BEFORE YOU BEGIN any changes or modifications to the property (inside or outside your home) you must submit in writing a detailed request. Failure to submit a request is a violation of the lease agreement and could result in deductions from your security deposit.

Do I need renters insurance?
Although not required, it is HIGHLY recommended that all residents carry renter's insurance to protect themselves and their personal property against losses. The owner's insurance does not cover your personal property. Being faced with having to replace all your valuables can be a financial disaster. Your insurance agent can advise you on this type of coverage. The cost for most renter's insurance is very affordable and well worth the expense.

Can I move before the end of my lease?
Your residential lease agreement outlines your obligations under the lease. You will be financially responsible for the rent until a replacement tenant is found. Please consult with us as soon as possible to discuss your situation in detail before breaking your lease. We might be able to find a solution to help you with an early move-out.

My roommate wants to move out, but I want to stay. What do I do now?
Contact us, we will need documentation from you to show that you can support the property by yourself. If you are approved to remain in the property without the financial support of the departing roommate, Richardson-Free will draft an amendment that releases the departing roommate. Richardson-Free will not partially refund part of the security deposit to your roommate since it is a condition of your Lease. You and your roommate will have to settle any funds owed to each other, including any or all of the security deposit.

How do I add or remove a roommate?
The prospective roommate will have to submit an application and Richardson-Free must approve the person PRIOR to them moving into the property. Have the roommate complete an application via the Richardson-Free website including payment of an application fee. If Richardson-Free denies the applicant, they cannot move into the property. If approved, you and the approved applicant must sign an Roommate Change/Add form.

Why do owners want to see the property?
The owners may want to assess the maintenance of the property, the condition, and their investment. It is also their right to see the property, but they respect that it is your residence. When owners request a site visit, Richardson-Free will contact you to set a date and time.

Our Office
Richardson-Free Property Management
1271 S Houston Lake Rd
Warner Robins, GA 31088
Phone: (478) 988-8442
Contact Form