Become a Homeowner
Richardson-Free Realty Property Management can help find the property that is right for you! If you are looking for a personal residence we can help you narrow your search of the many homes on the market to find the one that best fits your needs.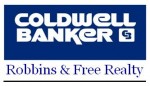 Richardson-Free Realty Property Management serves all of Middle Georgia within our selling division of Coldwell Banker Robbins & Free Realty – including Warner Robins, Centerville, Bonaire, Kathleen, Perry, Byron, Fort Valley, and Robins AFB. Coldwell Banker Robbins & Free Realty is large enough to serve you yet small enough to care. Your home is probably the biggest purchase your family will ever make, and it involves many decisions that go beyond simply choosing one you like. We will take the time to listen to your needs and desires. Your satisfaction is our number one priority.
Coldwell Banker Robbins & Free has many professional and experienced Realtors who will guide you through the entire process, from viewing homes to negotiating the best deal, to obtaining financing, all the way through to a successful closing. You will have full access to all homes available on our Central Georgia Multiple Listing Service.
Our expert local knowledge of the area should be invaluable to you, not just in terms of real estate, but also schools, neighborhoods, the local economy, and more.
Negotiating with sellers can be stressful. We will help you negotiate, so that the final contract includes your best possible terms and conditions. We do our homework to estimate the true market value of the home you are interested in. We want you to get the best value!
You should know absolutely everything about the property you are buying! You and a Realtor with Coldwell Banker Robbins & Free will view every home that you are interested in. Prior to closing we will make you fully aware of any and all inspections available to you.
Have confidence when signing documents. Contracts are full of complicated terms and clauses that can greatly affect your future life in your new home. We will give you the full benefit of our real estate knowledge and experience.
Let us represent your best interests in your search for a new home in the Warner Robins area. You can view many homes on the web but let us be your hands-on partner.
Call or email us for help, or to have your questions answered. We guarantee a quick response.
Resources:
Our Office
Richardson-Free Property Management
1271 S Houston Lake Rd
Warner Robins, GA 31088
Phone: (478) 988-8442
Contact Form